Setting up Gridworld
posted by: Ms. Martin
18 January 2011
No Comment
GridWorld is your AP case study. It's a great opportunity to get familiar with a larger code base and see an example of well-designed object-oriented code at work. I hope you'll have fun working with it, too!
Getting the files
Download a zip file of the Gridworld code.
Extract all the files from the Gridworld archive into your computer science folder.
Eclipse
1) Create a new project
2) Right click on the project name in the package explorer
3) Click on 'properties' (very bottom option)
4) Click on 'Java Build Path'
5) Click on 'Add External JARs'
6) Find and add the GridWorld JAR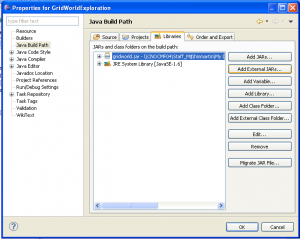 JGrasp
You'll need to add the Gridworld jar file to your CLASSPATH. Follow these images:
Exploring GridWorld
Read through the first part of the case study narrative. Familiarize yourself with the GridWorld environment, experiment with the new OO ideas we have learned and quickly answer all the questions in this section (should be really straight-forward).
Take a look at the second part of the case study narrative. Work through the exercises.